2017 Frostburn Effigy: Snoballius the Vengeful
Well, as things have it, the world has seen fit to give us another crack at making the effigy for that 'Just-About-Only-Burn-That-Does-Not-Sell-Out', Frostburn! Here are some images of what the CAD
design idea is at least. He will be 12-feet from the West Virginia snow-pack base to the top of his freezy-cold head.
There were 54 individual panels with 22 unique patterns cut out of them. Most of the larger, hexagonal panels were unique snowflakes, but since, life is short and time is limited, the pentagonal panels were the same at each level, for 6 of each.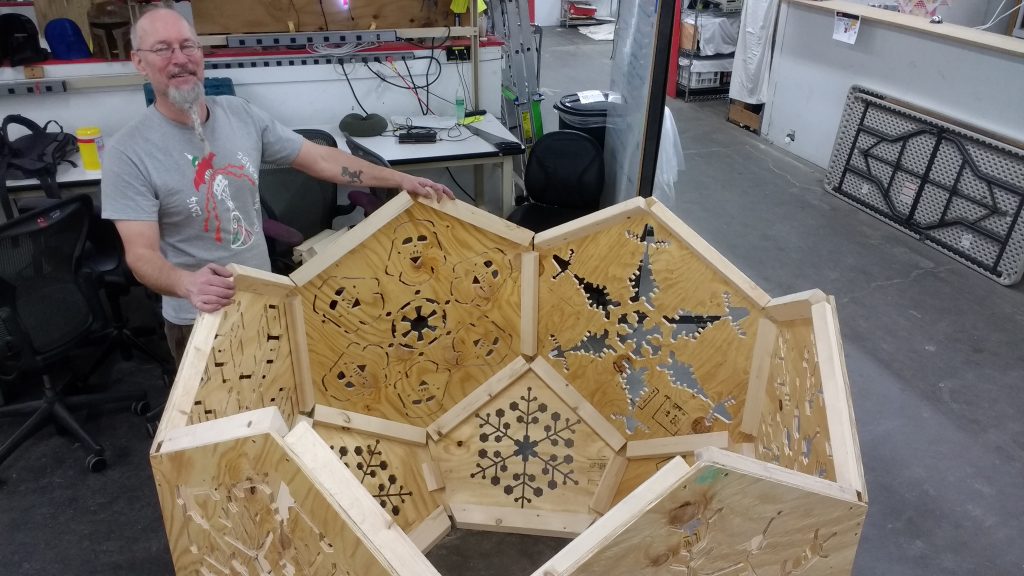 Building the lower snowball, notice the back panel…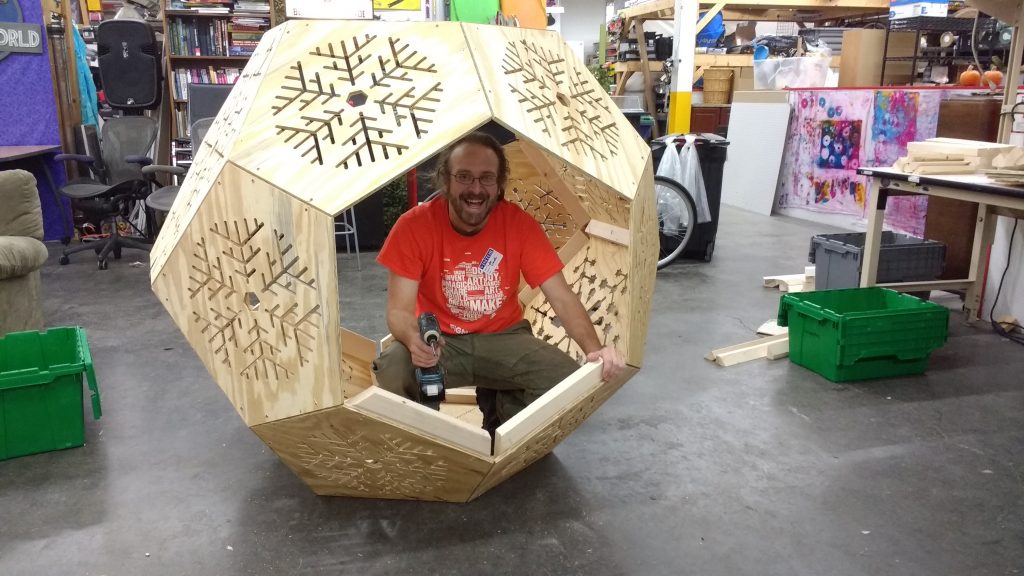 Happy Dan inside the belly of the beast!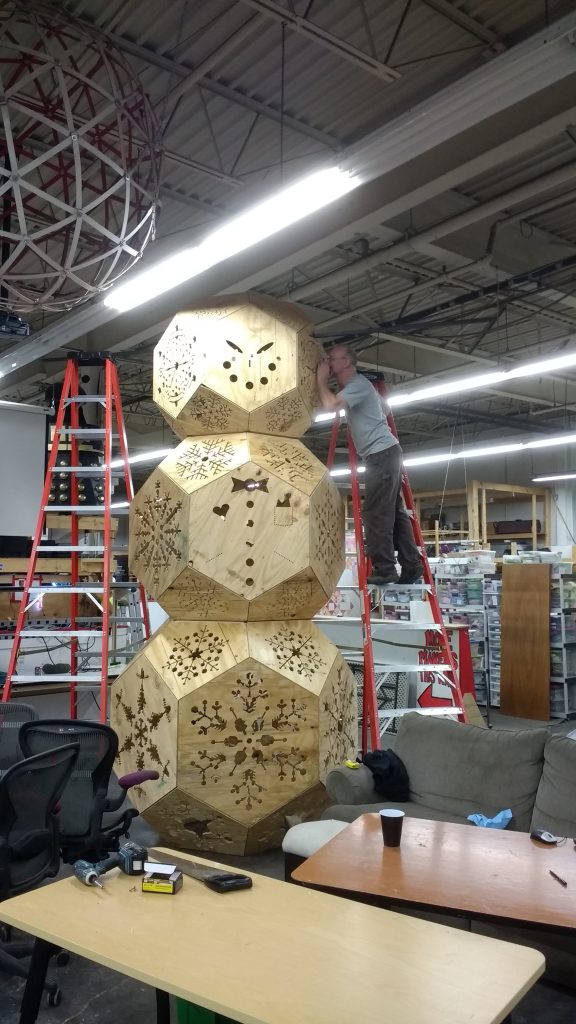 Here is a pre-Burn, test-build image from Artisans Asylum in Somerville where the beast was concepted, fabricated and put together. A dapper fellow indeed if  do say so myself…
Some of the snowflakes were based upon SEM micrographs of the crystalline structure of snowflakes, some were based upon Snowflake Bentley's early 20th-century photo-micrographs, some were purely from my aberrant brain and at least one was based upon a collection of Star Wars-themed snowflakes that I happened upon while searching the web for unusual snowflakes. Who knew?
Set up on site in West Virgina, what a handsome devil!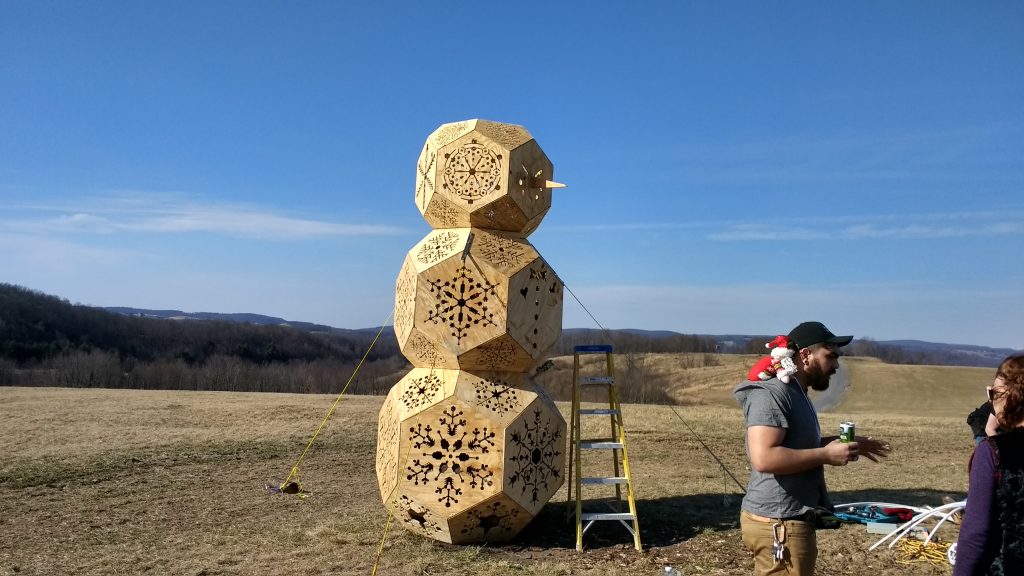 And here is one of the first Burn images that I have received from Frostburn itself: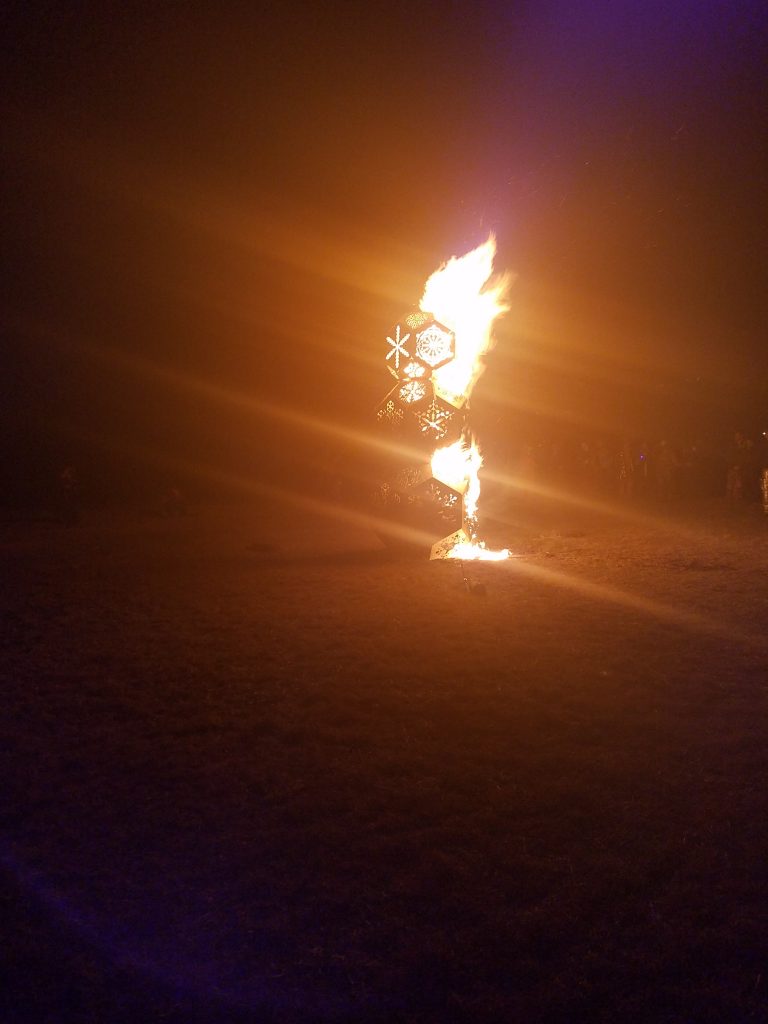 Thanks especially to Dan S who not only helped fabricate and assemble,  but drove down and back and listened to me all the way without complaint, surely a sainted man. Thanks to Phil S, Trevyn W and everyone else who helped move, assemble, load with wood, photograph, burn and enjoy the spectacle that was Snoballius the Vengeful.  Also, everyone at Frostburn who helped make it possible by helping to build, providing great places to be, warm food, good company and raucous cheering as he immolated. Especial thanks to Jessie T who runs this whole crazy event, The White Dragon Noodle Bar for providing us with an amazing living room, warm soup and good cheer. Also thank you to Frostburn for a grant that covered most of the expenses for this project. It was an honor and a pleasure to be entrusted with building your effigy again this year.